Welcome to Sommarvik
In the beautiful west of Värmland, surrounded by forests and lakes, you will find Sommarvik. A family friendly resort which offers accomodation and activities for the entire family.

Book your vacation online – visit our online booking site!
Five star campsite in Värmland
Sommarvik is a family friendly holiday resort located just south of Årjäng in the west of Värmland. Sommarvik is surrounded by beautiful forests and lakes and offers cabins and camping pitches all year round. Many of the cabins and camping pitches have lake views. Västra Silen is a clear water lake and one of the largest lakes in the Dalsland Canal lake system. Exploring nature from a canoe is a wonderful and relaxing activity for the entire family. During the summer season you can enjoy a variety of activities and there are plenty of opportunities for relaxation.
Welcome!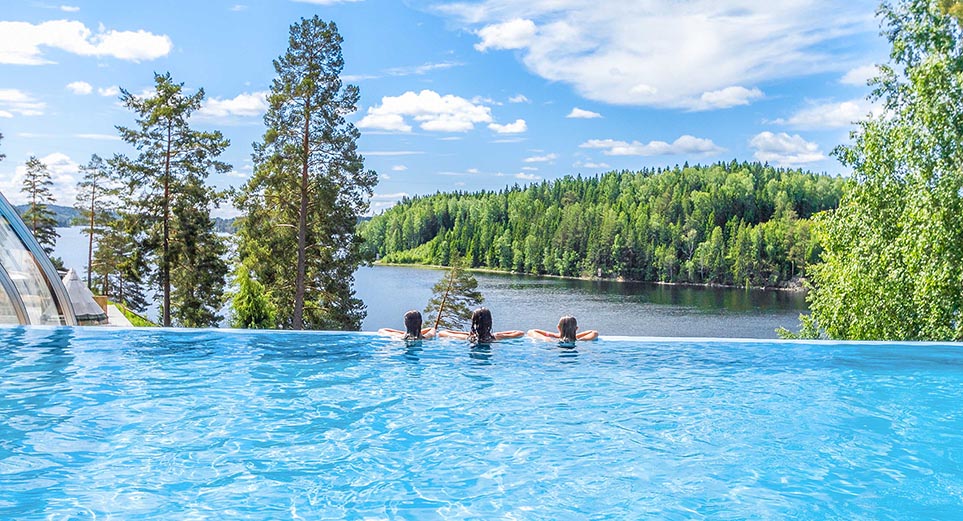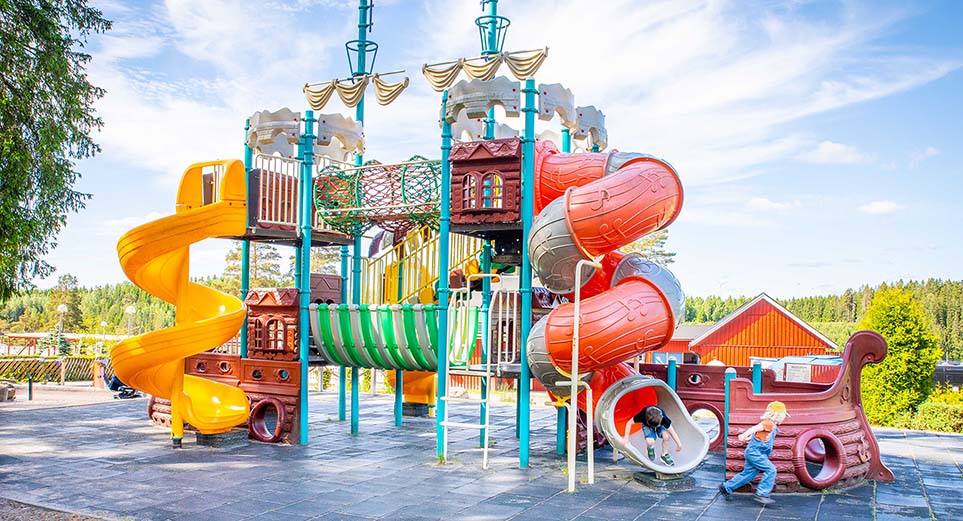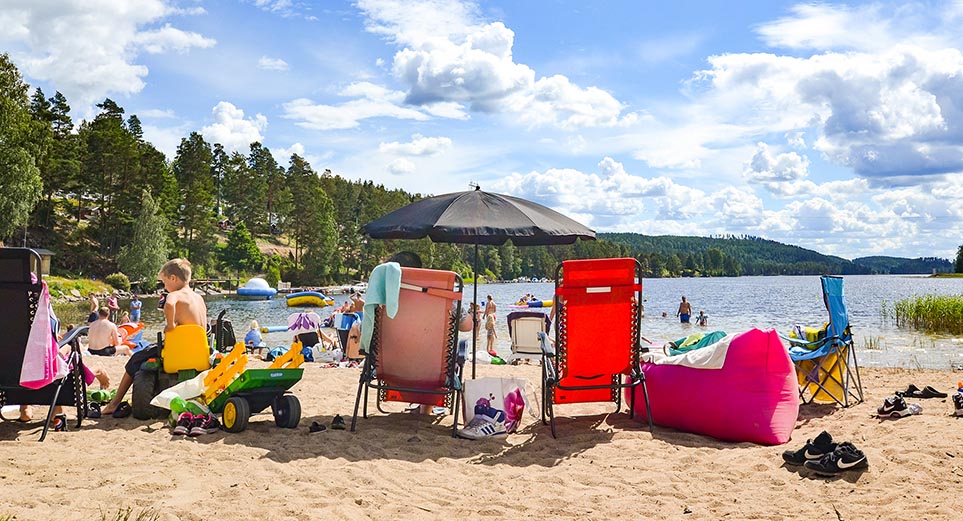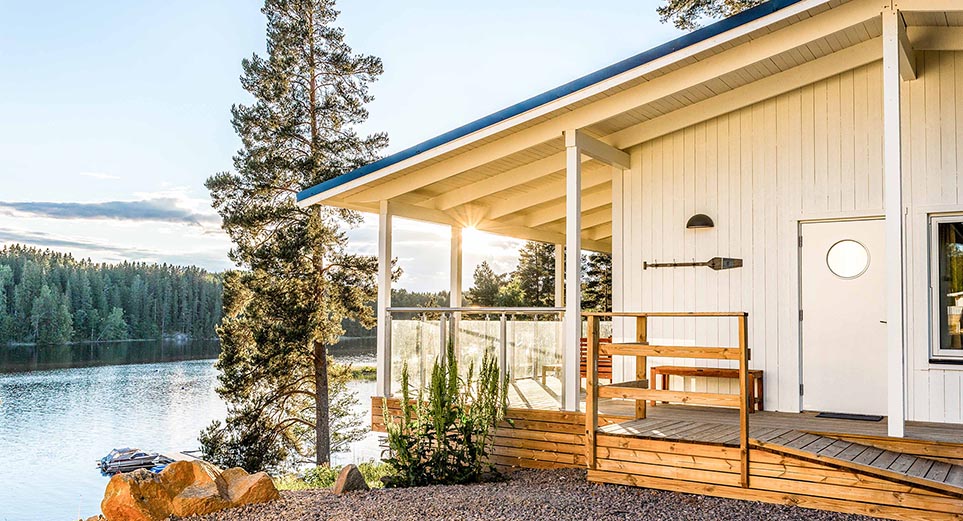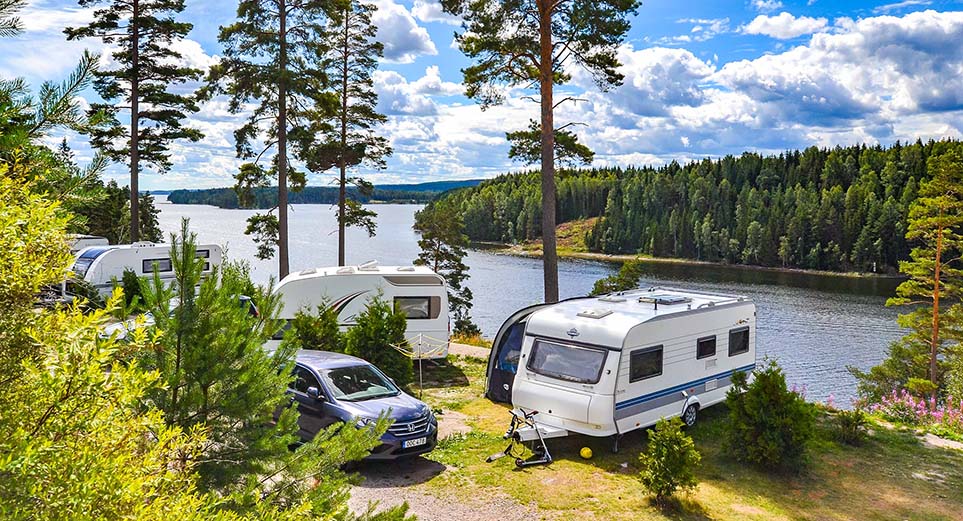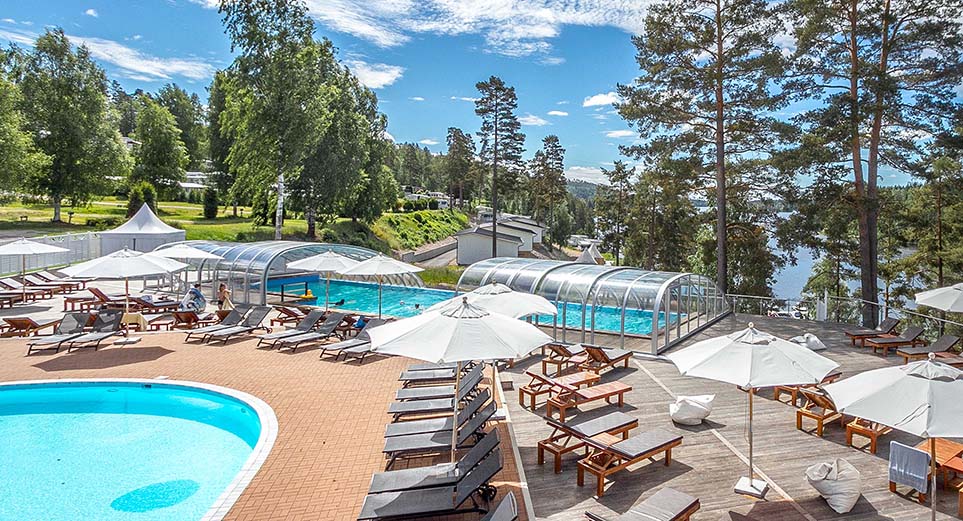 Book your vacation online – visit our online booking site!
Cabins
At Sommarvik there are approx. 70 cabins with 2 up to 18 beds. Each cabin type has its charm. For example you can choose if you want to stay right by the beach – perfect for those who want to be able to take a morning swim before the rest of the resort has woken up. Or if you want to stay close to a playground, close to the pool area and restaurant or if you prefer to stay in a more secluded and quiet area. Read more about our different cabin types and see our site map for information on where they are located.
Camping & Glamping
At Sommarvik you will find a pleasant and family friendly campsite. There are 6 service buildings in the area and different categories of camping pitches depending on for example size and location. There are also two glamping tents with large west-facing terraces and lovely views of the lake.
Pool area & beach
Sommarvik's pool area has three outdoor swimming pools, including a children's pool, a pool with a slide and an infinity pool with a sliding glass ceiling and a fantastic view of the lake. Here you can easily spend the entire day with your family and enjoy the view from the sun bed. For those who prefer the feeling of sand between their toes there is a lovely shallow and family friendly beach.
Playgrounds & adventure golf
There are several playgrounds on site. Let the kids explore and find their favourite! In the center of the resort is our adventure mini golf course with the theme of an enchanted forest. Here you play past trolls and mushrooms, through tree trunks and caves. A fun activity for the whole family!
Activities & Kids Club
During the summer we arrange lots of activities for all ages and the children can play and have fun with Jojo the moose in our Kids Club. The Kids Club membership is free of charge and all members receive a membership card.
Rent an adventure
Regardless of whether you want to let the kids try kayaking along the shore, or if you want to go on a more long-distance adventure, we have the equipment for you. In our rental facility you can rent one-person-kayaks, two-person-kayaks and children's kayaks, canoes, rowing boats, SUP boards and bicycles.
Unwind & relax
If you need a break from all the activities, you can unwind in our mini-SPA with jacuzzi and steam sauna. Down by the lake is also a sauna with its own private jetty.
Restaurant & pool bar
The restaurant at Sommarvik is open during the evenings in the summer season. During the day you can order food and drinks from the pool bar. Use the app and you can place your order directly from the sun bed. The pool bar also offers a lovely breakfast buffet during peak season.