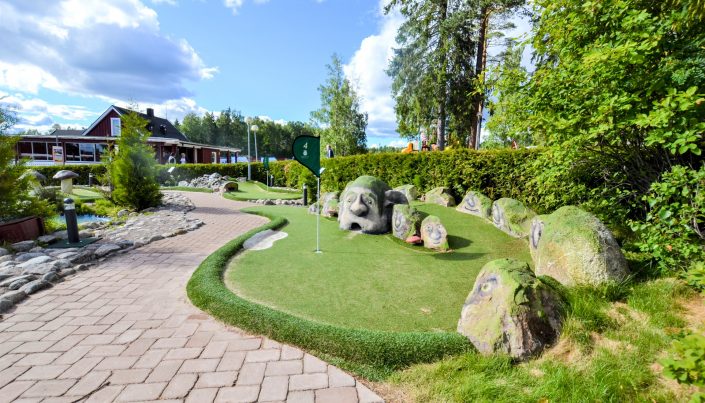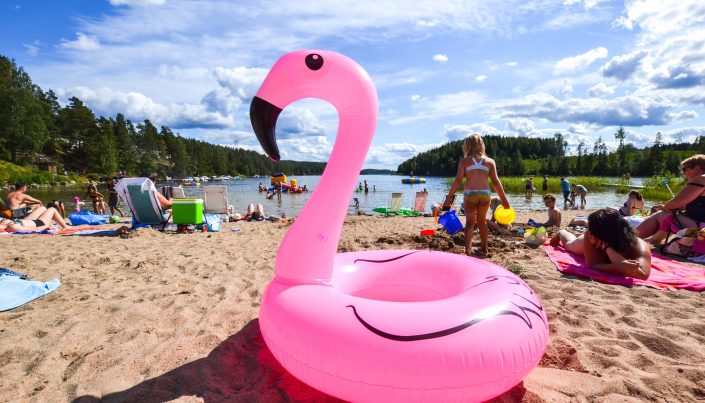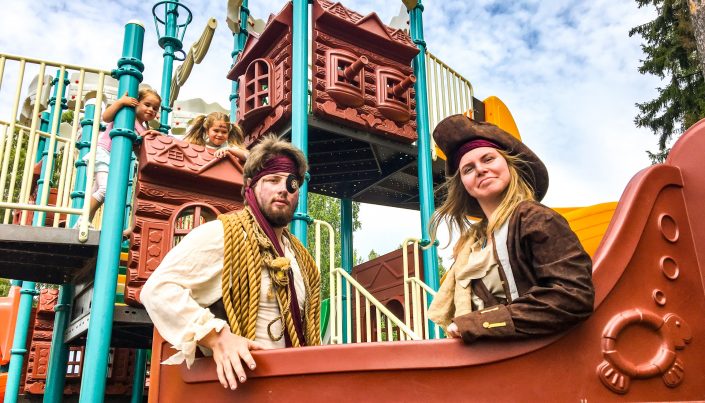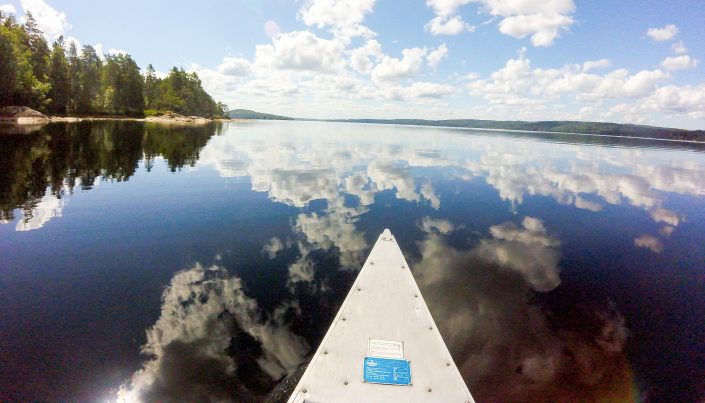 Pool area
In the center of the campsite, just across from our pool bar and restaurant, is our wonderful pool area. From here you have a great view of the lake. There are three pools – one for our youngest visitors (about 20 cm deep) and two for the older ones (about 120 cm deep), one of which is a 25 m long infinity pool. Both pools are heated by solar power and keep a temperature of around 20-25 degrees Celsius.
Dogs are not allowed in the pool area.
Opening hours:
9 am – 8 pm daily between Midsummer and August.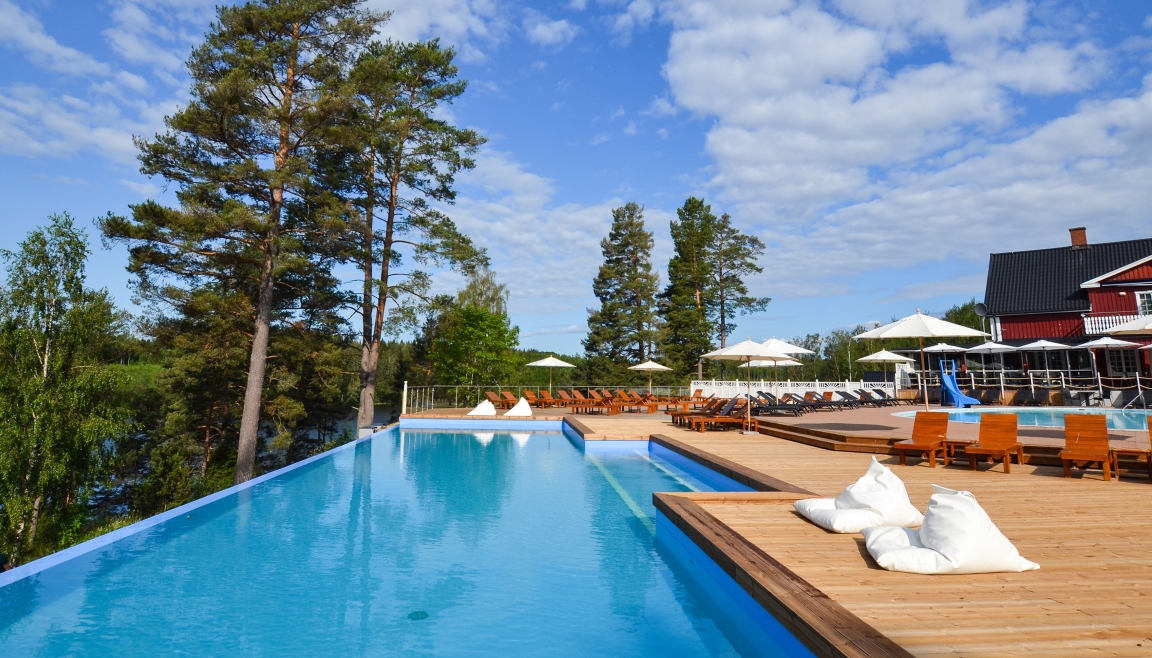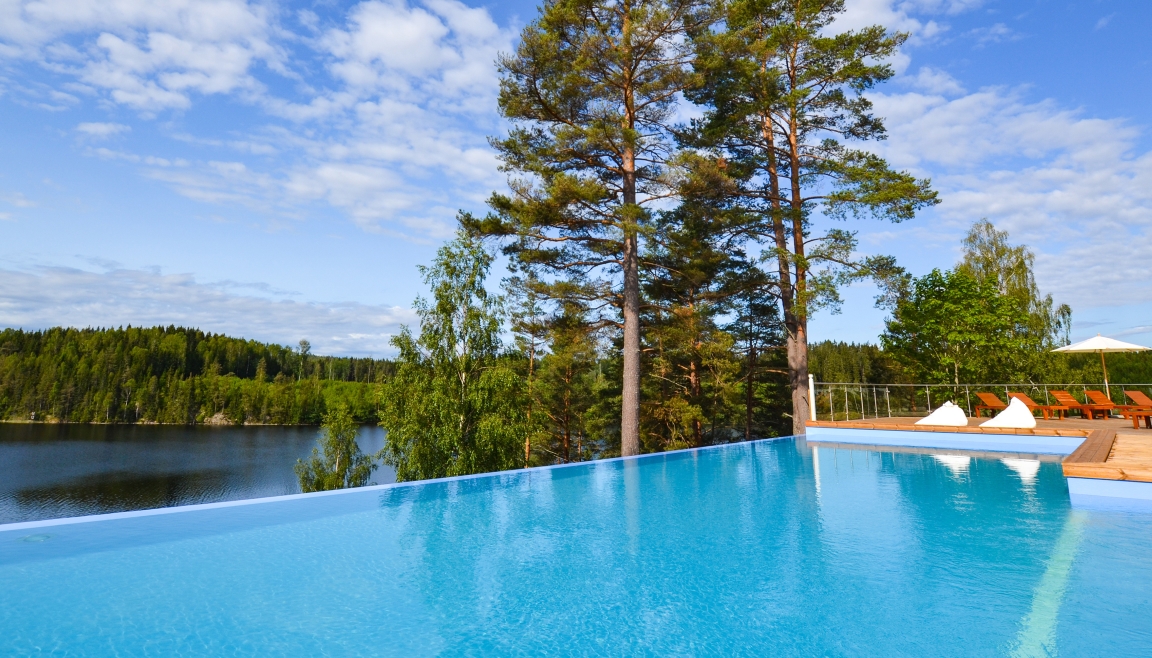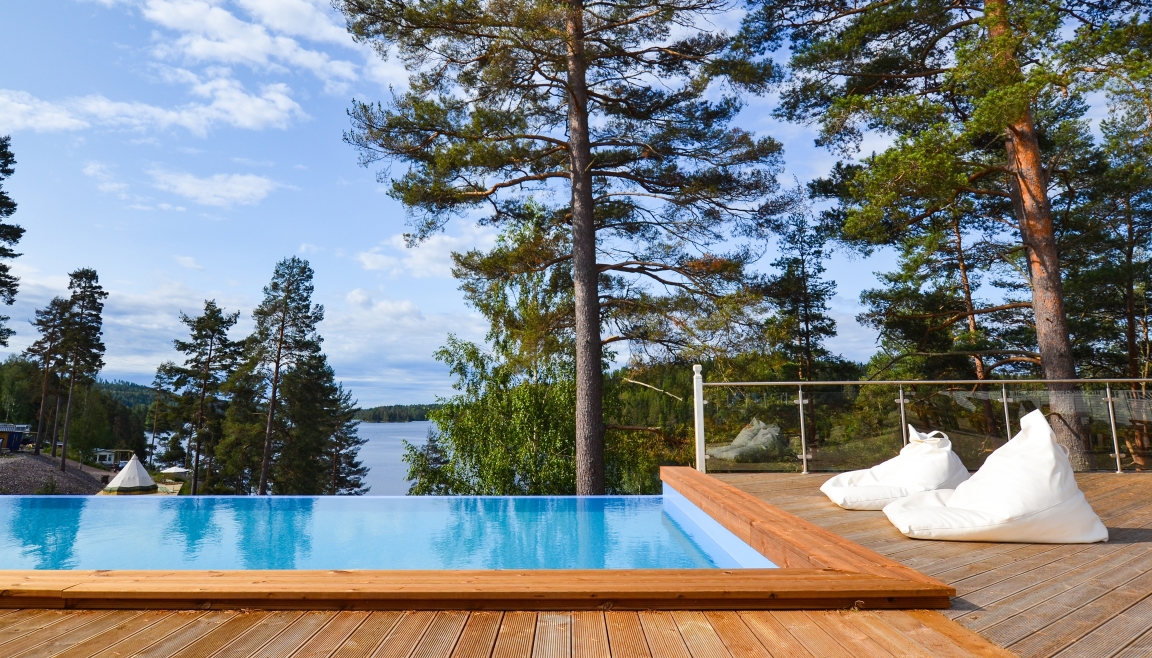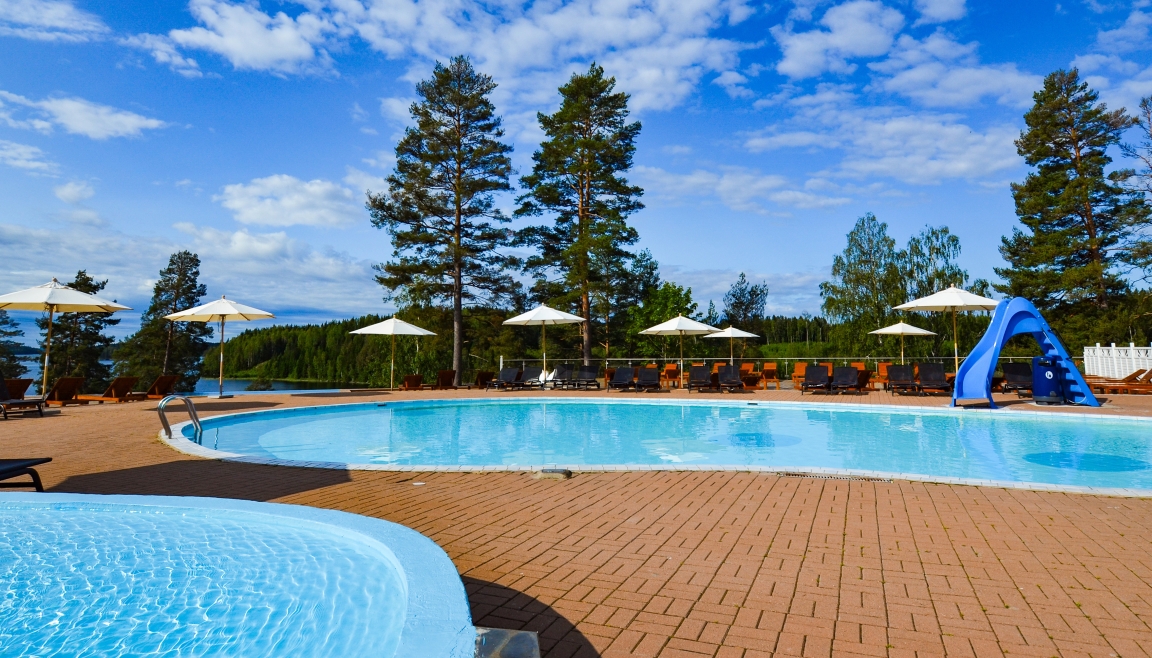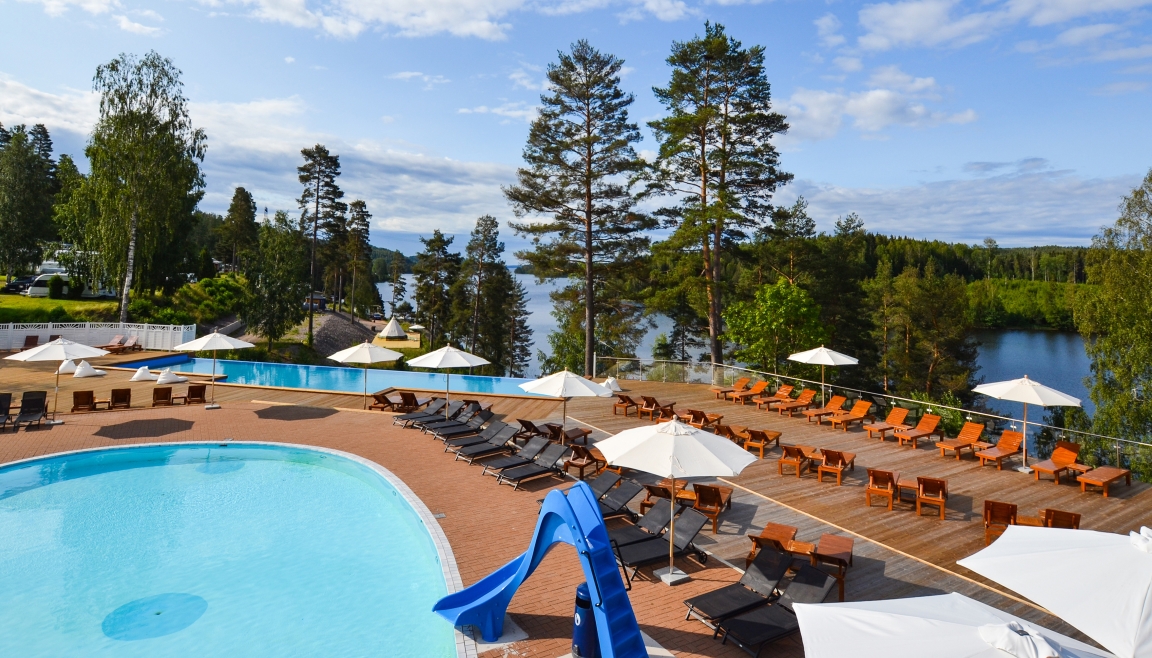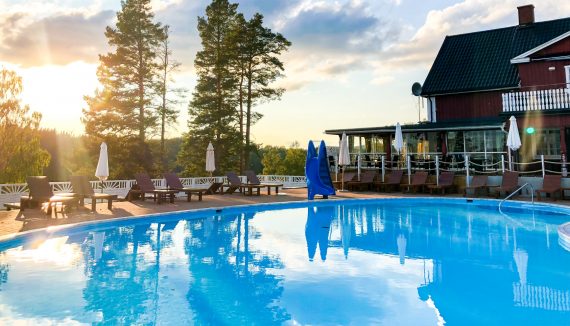 Beach
The beach at Sommarvik is family friendly and here is plenty of space for sunbathing, swimming and games. Sun beds can be borrowed, free of charge. During the summer there is an inflatable playground in the water.
Dogs are not allowed on the beach, but further down the seaside is a smaller beach for dogs!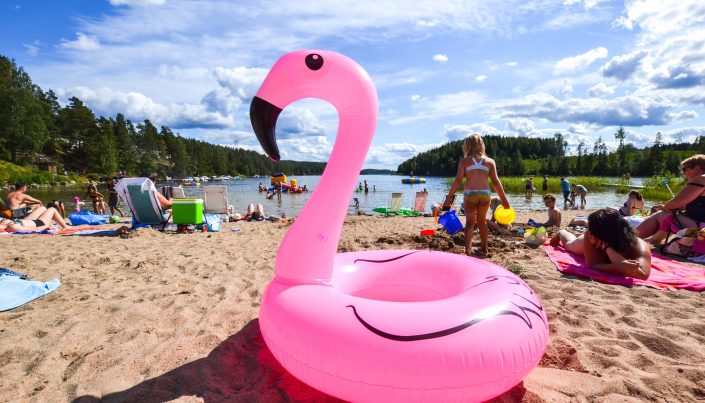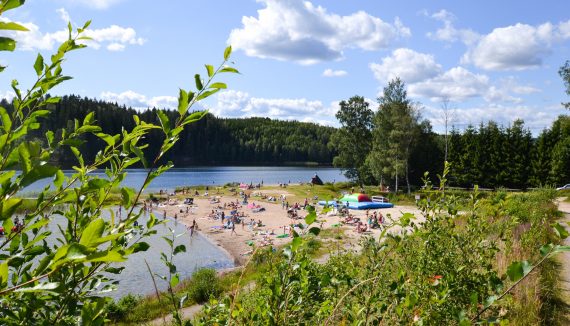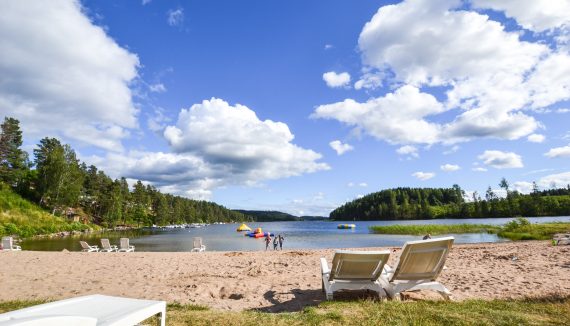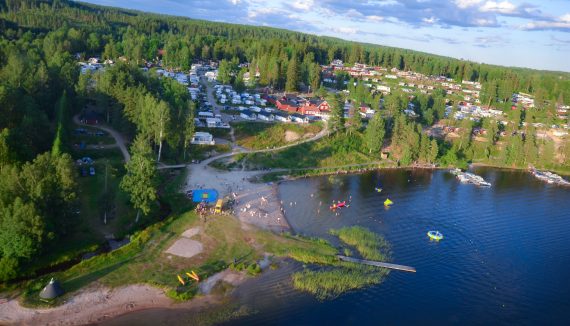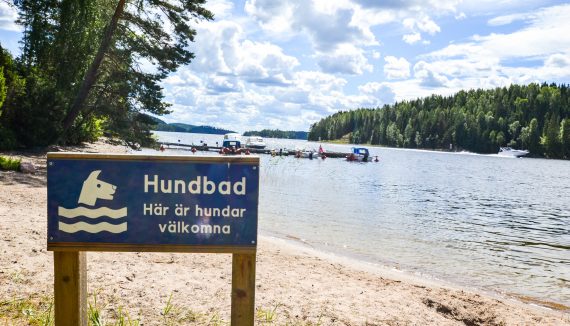 Playgrounds
No matter where at Sommarvik you are staying, you are always close to a playground. There are 6 different playgrounds around the campsite. During the summer there is an inflatable playground in the water, and on the beach there is usually a trampoline. Take a look at our site map to see where the playgrounds are located.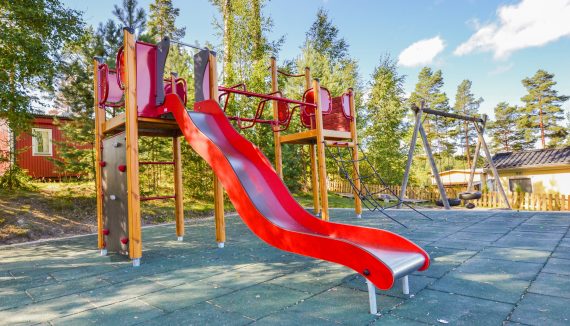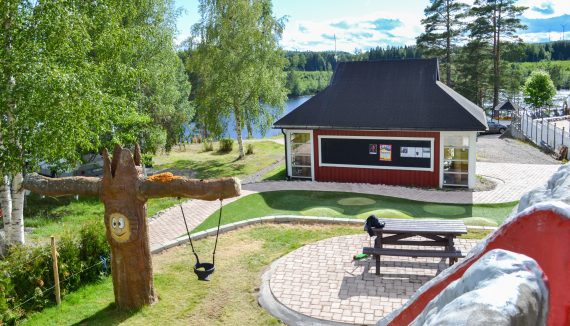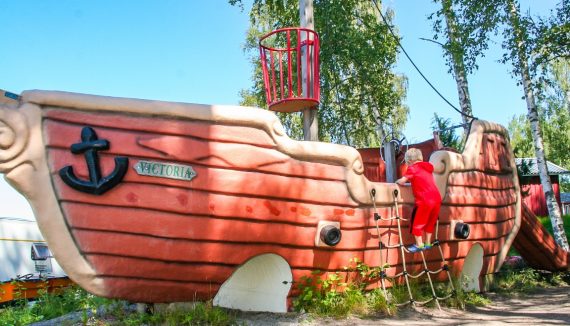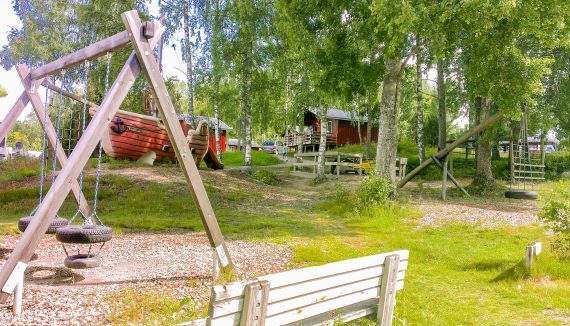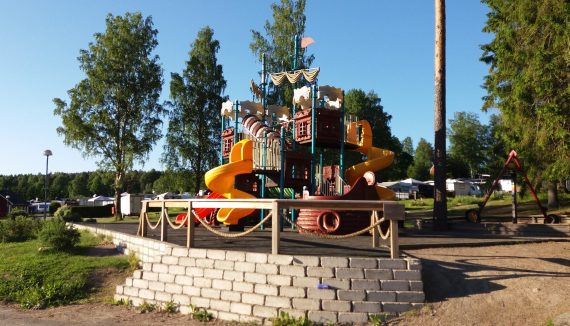 Adventure golf
Our Adventure minigolf has 12 courses and goes by a magical forest theme, with trolls, mushrooms and creatures of the forest. How many trolls can you find? And do you dare to enter the cave? Gather family and friends and enjoy this great activity together!
Opening hours:
Same opening hours as the reception and shop, as long as the weather allows.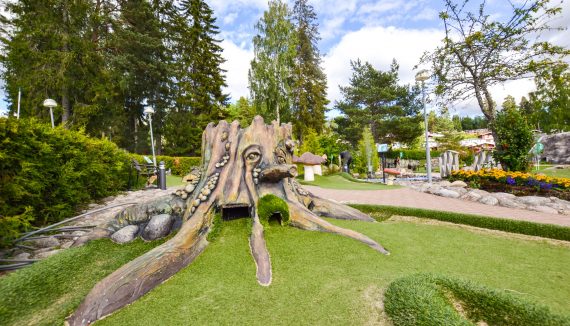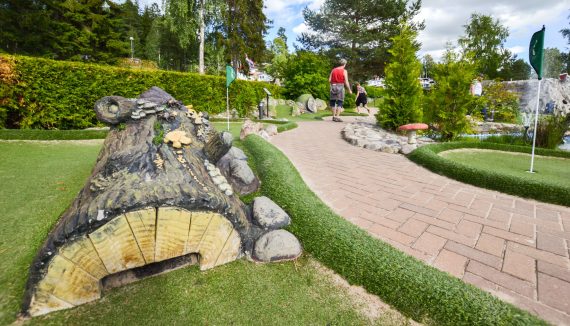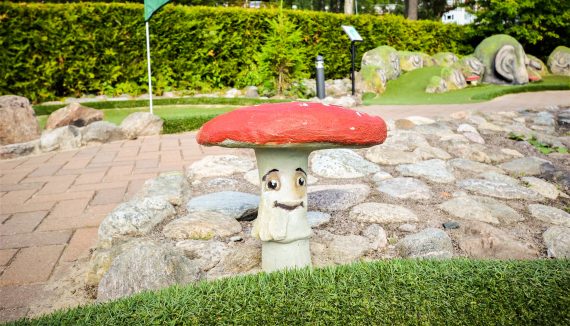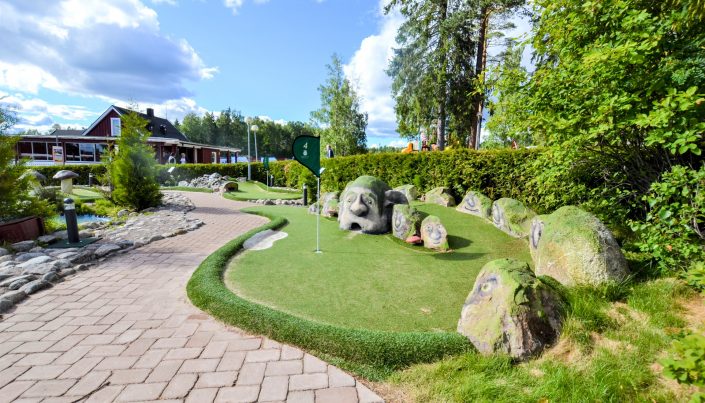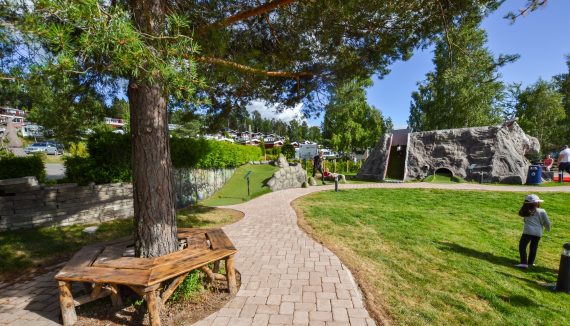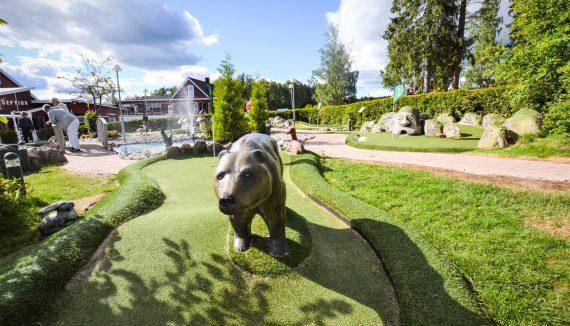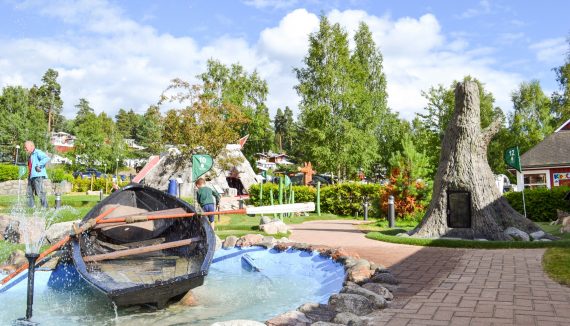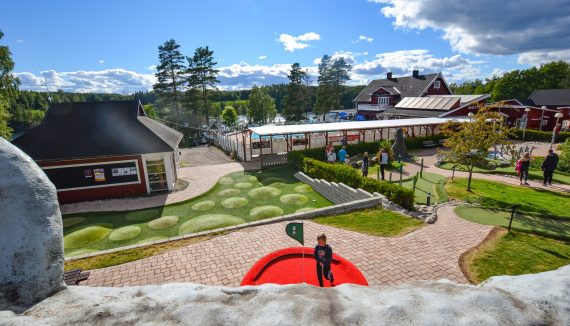 Mini SPA
Rent our mini SPA and relax in the jacuzzi or Turkish steam sauna. Lounge with sofas. Shower and toilet. There is also a terrace overlooking the lake and beach, with sun beds and a hot tub. The hot tub is not included when you rent the mini SPA but could be added at an extra cost, if you wish. The mini SPA can be rented in two hour sessions and is open for reservations all year round.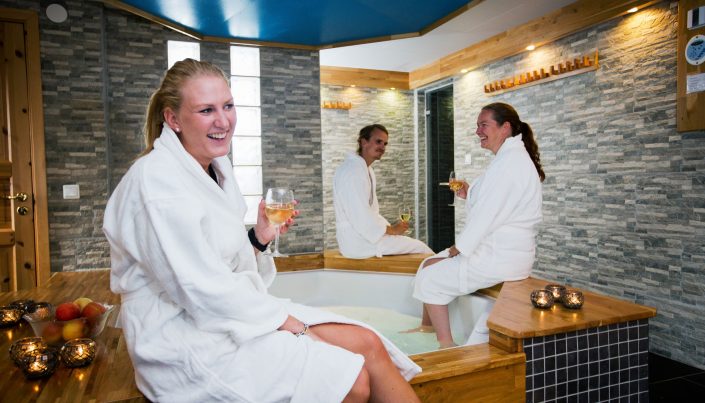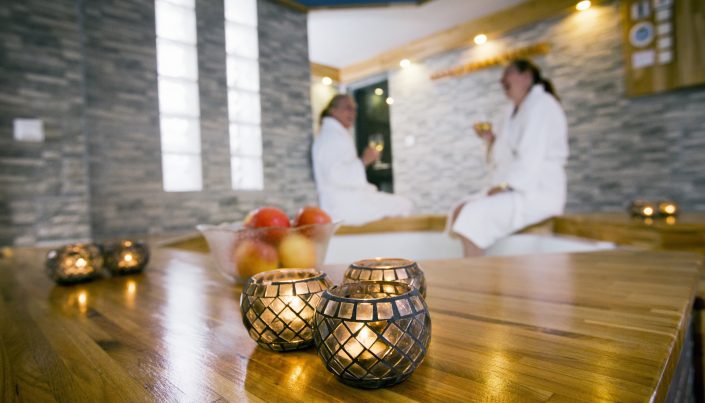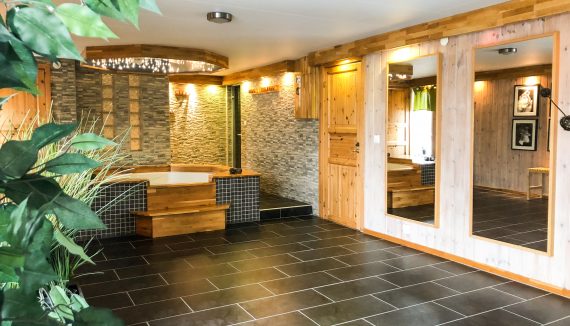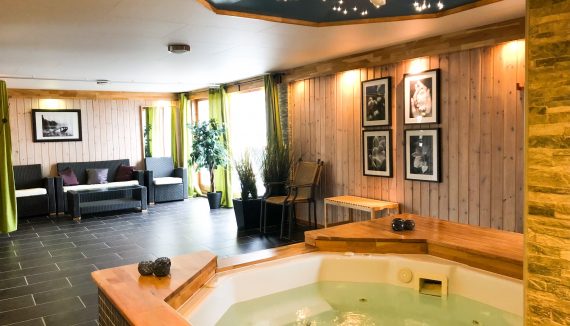 Sauna
Down by the lake is our sauna. When you rent the sauna you have access to a private jetty and with only a few short leaps you can throw yourselves into the water and cool down after the heat inside the sauna. The sauna can take up to 10 persons and is rented in three hour sessions. One sack of firewood is included in the price. You can buy extra sacks of wood at an additional cost. The sauna is open for reservations the whole year round.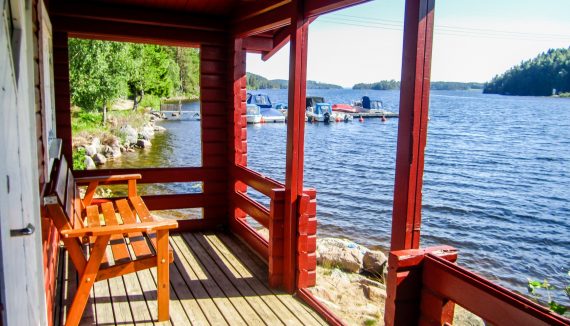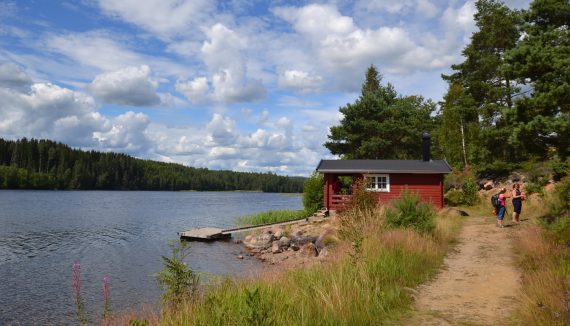 Canoe rental
Across from the reception is our canoe rental, where you can rent canoes, fun kayaks, rowing boat and bicycles. We have maps of lakes and nature trails and can show you popular routes for canoeing, cycling and hiking. You can also get fishing permits here.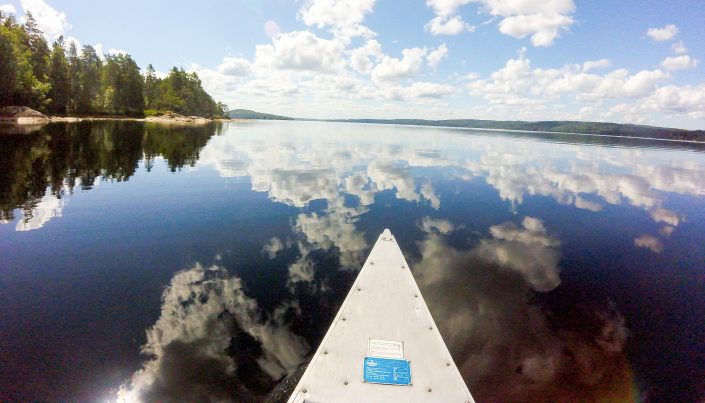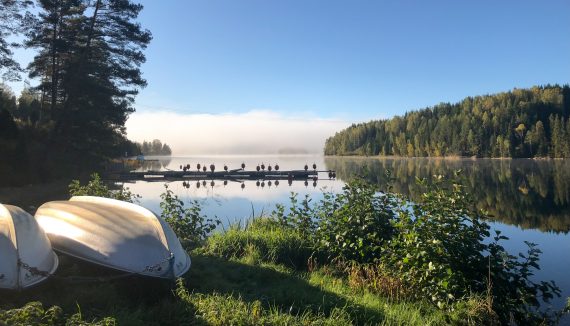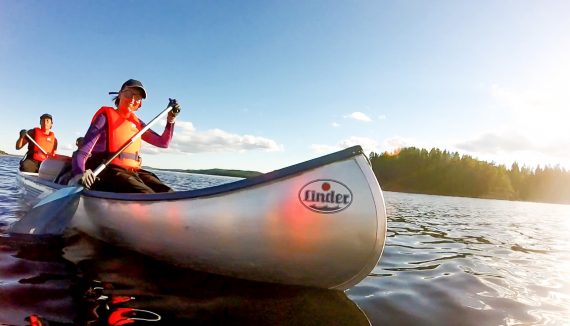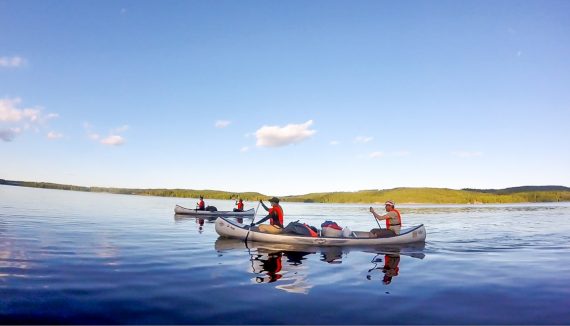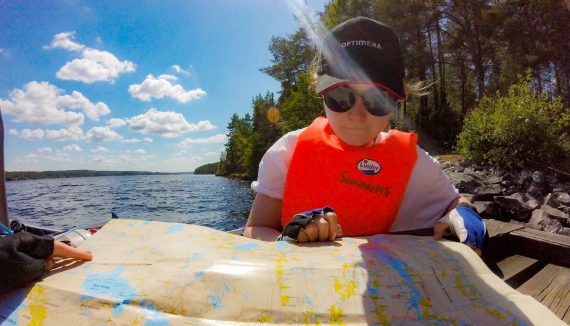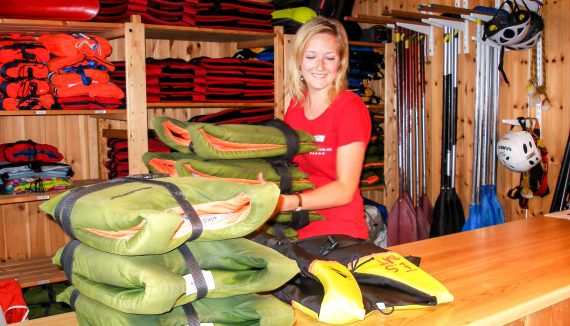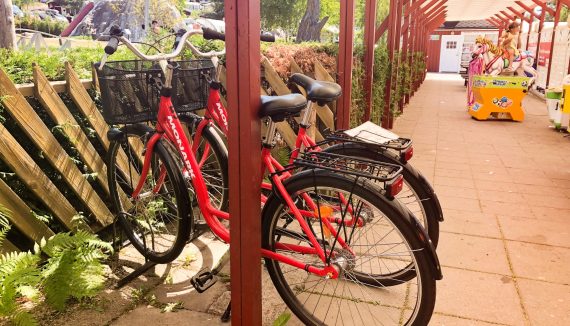 Activity program
During the summer, our activity team arrange lots of activities for the entire family! For example, we offer facial painting and pony riding for the youngest family members, and beach volley ball tournaments and canoe racing for the older ones. We also arrange activities where the whole family can participate, such as sand castle competitions and gold panning.
Here you can see our activity program for the summer 2019!